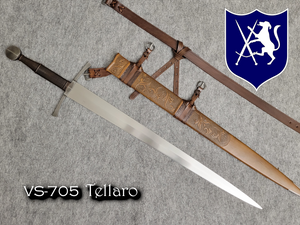 This is the next model in the Vision Series collaboration with Valiant Armoury and renowned sword maker and craftsman Angus Trim.
These blades have very limited availability. 

The Hilt fittings come Antiqued Grey standard
This Sword has an Overall Length: 41.5 inches
Sword Blade Length: 31 inches
Sword Handle Length: 8 inches
Blade is a type XVIIIb
Sword Blade Material: Hand Made 5160 High Carbon Spring Steel
Sword Blade Width at Guard: 2 3/8th inches
Sword Blade Thickness at Guard: .24 inches
Sword Weight: 2 lb. 11 oz.
Sword Center of Balance: 3 3/4 inch from the guard.
Standard Leather Colors:
Grip - Cocoa Brown

If Scabbard is added the standard colors are:
Scabbard - Light Brown 
Belt / Harness - Cocoa Brown
A scabbard upgrade is available which includes a felt lined wood core as well as hand painted embellishments. (Pictured in photo gallery)