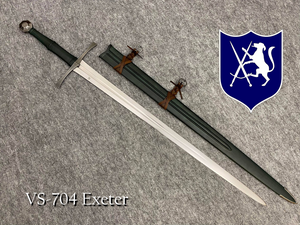 This is the fifth model in the Vision Series collaboration with Valiant Armoury and renowned sword maker and craftsman Angus Trim.
These blades have very limited availability. When this first run is gone they will not be available for likely more than a year or so.
The Hilt fittings come Antiqued Grey standard
This Sword has an Overall Length: 44 1/4 Inches
Sword Blade Length:  34 inches
Sword Handle Length: 8  inches
Blade is a type XIIa
Sword Blade Material: Hand Made 5160 High Carbon Spring Steel
Sword Blade Width at Guard: 2 1/16 inches
Sword Blade Thickness at Guard: .252 inches
Sword Weight: 2 lb. 9 oz.
Sword Center of Balance: 4 1/2 inch from the guard.
Standard Leather Colors:
Grip - Antiqued Green
if Scabbard is added
Scabbard - Antiqued Green
Belt/Harness - Antiqued Brown