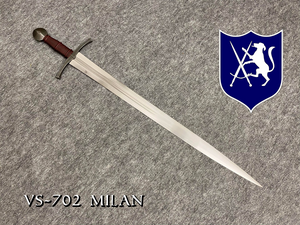 This is the 4th model in the Vision Series collaboration with Valiant Armoury and renowned sword maker and craftsman Angus Trim.
These blades have very limited availability. We will be beginning a short 2nd run of these very soon so we are opening them up for pre-orders.

The Hilt fittings come Antiqued Grey standard
This Sword has an Overall Length: 36 1/8th inches
Sword Blade Length: 29 9/16th inches
Sword Handle Length: 4 1/4 inches
Blade is a type XIV
Features Flared Shoulders with a Double Fuller Hexagonal cross section transitioning to lenticular
Sword Blade Material: Hand Crafted 5160 High Carbon Spring Steel
Sword Blade Width at Guard: 2 1/8th inches
Sword Blade Thickness at Guard: .204 inches
Sword Weight: 2lb. 4 oz.
Sword Center of Balance: 4 1/2 inch from the guard.
Standard Leather Colors:
Grip - Antiqued Red

Contact Sonny for more info through sales@valiant-armoury.com