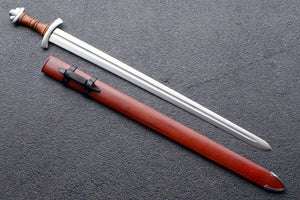 Valiant Armoury Sword Company
VA-405-Craftsman Series - The Hedemark Viking Sword
Sale price Price $1,345.00 Regular price $1,345.00
The Valiant Armoury Hedemark Viking Sword Craftsman Series
This Sword has an Overall Length: 38 1/2 inches
Sword Blade Length: 31 1/2 inches
Sword Handle Length: 3 3/4 inches
Sword Blade Material: Hand Made 5160 High Carbon Spring Steel
Sword Blade Width at Guard: 2 inches
Sword Weight 2 lb. 12 oz.
Sword POB 5 1/2 inches below the guard.
 
Standard Leather Colors:
Scabbard - Rust
Grip - Rust
Belt/Harness - Cocoa Brown
Sonny Suttles, the owner, who started in November 2006 and his son Zach who has worked off and on with Valiant Armoury for over 9 years and joined full time in April of 2017.
We hope you appreciate the work, time and care we put into every order we make.
If you have any questions feel free to contact us at 817-501-9706