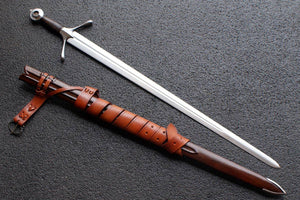 Valiant Armoury Sword Company
VA-130-Craftsman Series - The Scottish One Handed Medieval Sword
Sale price Price $1,345.00 Regular price $1,345.00
The Valiant Armoury The Scottish One Handed Medieval Sword Craftsman Series
The Scottish One Handed Medieval Sword comes hot peened assembled standard.

This Sword has an Overall Length: 38 inches
Sword Blade Length: 31 inches
Sword Handle Length: 3 1/2 inches
Sword Blade Material: Handcrafted 5160 High Carbon Spring Steel
Sword Blade Width at Guard: 1 13/16  inches
Sword Weight 2 lb. 8 oz.
 
Standard Leather Colors:
Scabbard - Antiqued Brown
Grip - Antiqued Brown
Belt/Harness - Rust

The Scabbard and suspension package is made with the finest top grain leather and is some of the finest found on any semi custom medieval sword.