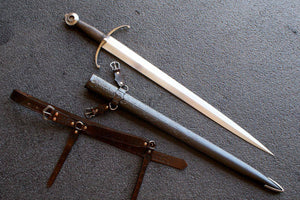 Valiant Armoury Sword Company
VA-110-Craftsman Series - The Monarch Medieval Arming Sword
Sale price Price $1,295.00 Regular price $1,295.00
The Valiant Armoury The Monarch Medieval Arming Sword Craftsman Series
This Sword has an Overall Length: 33 3/4 inches
Sword Blade Length: 27 7/8th inches
Sword Handle Length: 4 1/8 inches
Sword Blade Material: Hand Made 5160 High Carbon Spring Steel
Sword Blade Width at Guard: 2  inches
Sword Weight 2 lb. 2 oz.
 
Standard Leather Colors:
Scabbard - Antiqued Blue
Grip - Antiqued Blue
Belt/Harness - Antiqued Tan
Sonny Suttles, the owner, who started in November 2006 and his son Zach who has worked off and on with Valiant Armoury for over 9 years and joined full time in April of 2017.