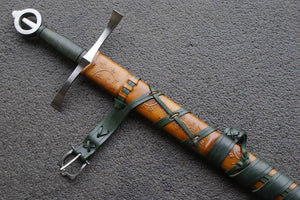 Valiant Armoury Sword Company
VA-108 Craftsman Series - Irish Ring Arming Sword
Sale price Price $1,295.00 Regular price $1,295.00
The Valiant Armoury Irish Ring Arming Sword Craftsman Series
The Craftsman blades are made by either Sonny or Zach. The steel we use is 6150 High Carbon Spring Steel. The blades are precision ground to specs.  We normalize the steel 2 times prior to heat treat to refine the grain structure of the steel to produce a more uniform distribution of carbon content throughout the blade. Our heat treat oven is state of the art and very accurate.
We polish the steel prior to tempering to check for cracks and inclusions then temper to a Rockwell 52 for strength, resiliency and toughness.
The blades are then hand finished and sharpened to an apple-seed edge on the Craftsman Series blades

All sword fittings begin as waxes made in our shop. We send those out to a foundry right here in Texas
The Grip and Scabbard cores are custom made for each sword and wrapped in quality top grain leather then hand dyed to the customers requested colors. Each scabbard includes a handmade leather belt/harness that is also hand dyed to the customers requested color


This Sword has an Overall Length: 37 inches
Sword Blade Length: 31 inches
Sword Handle Length: 4 1/4 inches
Sword Blade Material: Hand Made 6150 High Carbon Spring Steel
Sword Blade Width at Guard: 1 13/16th inches
Sword Weight 2 lb. 8 oz.
 
Standard Leather Colors: 
Scabbard - Antiqued Tan
Grip - Antiqued Green 
Belt/Harness - Antiqued Green
Valiant Armoury consist of just 2 craftsman.
Sonny Suttles, the owner, who started in November 2006 and his son Zach who has worked off and on with Valiant Armoury for over 9 years and joined full time in April of 2017.
Everything that we ship is the result of the work of just these 2 men. We hope you appreciate the work, time and care we put into every order we make.
If you have any questions feel free to contact us at 817-501-9706